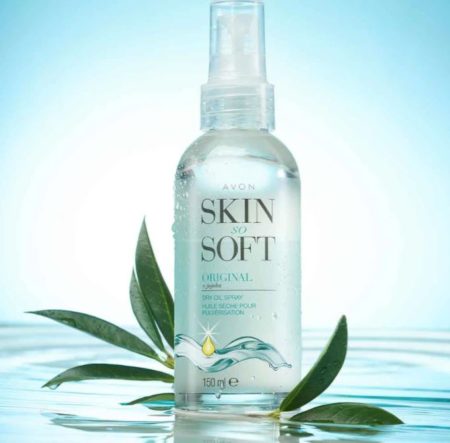 Its time to start planning those holidays, lock down is being relaxed
Remembering to order your skin so soft to keep those insects at bay
Avon's No.1 bestseller Skin So Soft Original Dry Oil Body Spray. 5 sold every minute.
Helps keep insects away
Formulated to help lock in moisture when applied after bathing, leaving skin delicately scented.
Instant, touch-dry moisture in a handy spray.
Long-lasting moisture for normal to dry skin.
Infused with natural oils.
Contains jojoba oil.
150ml.
5 star reviews too
A brilliant product that has stood the test of time, so glad that you can still purchase the original spray, softens skin and leaves a lovely finish, and it does seem to keep pesky insects at bay!
Mosquito Repellent
SSS is a fantastic product I have used for last two weeks in the heat. I read it was good to keep of the Mosquitos and I have to say only used SSS and not been bitten once it's been superb. Smells lovely and very soothing on skin.
I love the smell!
I have used this Skin So Soft Original Dry Oil Body Spray for at least 10 years. It is very effective against mosquito bites as proved in Sri Lanka. If you do not want to spray onto your body you can spray into your hand and spread the oil that way. It absorbs quickly.
Need it fast? Pay online and get delivery to your door
Check out more reviews or order yours Shop Avon online